Effective Home Pest Control
In

Las Vegas, NV

Your home is where you share life with family and friends. It should not be where you find spiders, scorpions, Africanized killer bees, rats, and other harmful pests. These pests will find their way inside if you don't have an effective barrier to keep them out of your Nevada residence. Our multi-pronged approach works to repel, take down, and physically exclude pests from getting in.
We're In Your Neighborhood
Enter your zip code below and take advantage of special offers in your area today.
How Big is your Home?
Adjust slider to match square footage of your home
Billing Information
Confirm Details & Schedule Service!
Program:
Terms & Conditions
| | |
| --- | --- |
| | |
I accept the terms and conditions
Service Scheduled
Plan Details
Value Service
Our Value Service is designed to keep the most common pest invaders out of your home. You know who those culprits are; American, Oriental and Turkestan roaches, ants, spiders, pantry pests, and many others. Anderson's Exclusive 20-Point Barrier treatment includes a comprehensive interior and exterior treatment to eradicate the pests and leave safe, residual baits behind to kill any invaders that venture forth between treatments. We apply products in the cracks and crevices where bugs love to hide, travel along paths of least resistance, even including removing electrical outlet covers to get our products in the walls.
We also sweep the eaves for mud daubers and spiders and apply insecticides to the property perimeter to keep pests out. After the initial comprehensive service, we will make scheduled quarterly visits to reapply our products to the perimeter of your property where Las Vegas' desert weather may deteriorate professional barriers over time. After all, the vast majority of pests enter from outside, so our perimeter treatments safeguard your home. Any interior services requested are provided FREE OF CHARGE while you maintain your subscription.
***Note: We do not recommend the value service for the greater Las Vegas area if bark scorpions are your trouble pest. The desert climate in Southern Nevada, with year-round sun & heat, may require a more frequent service and most customers find excellent results with our alternate monthly program.***
What's Included:
Quarterly Service including Anderson's 20 Point Exclusive Barrier,

Roaches (American, Oriental and Turkestan)

Ants (excludes Carpenter)

Wasps and Mud Daubers

Spiders

Crickets

Scorpions

Pantry Pests

Silverfish

Earwigs

Centipedes and many more
$26.33/month
Initial fee of $99 with year-round service agreement. Service is performed on a quarterly basis. Each quarterly service is only $79 (billed $26.33 monthly after a one-time initial service fee of only $99).
*Additional charges may apply for homes above 3,500 square feet.
Sterling Silver Service
Anderson's Sterling Silver program is our most popular plan we offer, perfect for residents of the Silver State. Starting with Anderson's Exclusive 20-point Barrier service to protect you against pests inside and out, we then schedule recurring services every 60 days. This premium service covers all types of ants including hard to eradicate Carpenter Ants. Hard to eliminate German roaches are included in this service as well as the control of all types of cockroaches. On top of the long list of insects controlled, namely: silverfish, spiders, crickets, centipedes, millipedes, scorpions, and pantry pests.
We also advise you on how to keep rodents away from your home. Further, we place glue boards inside your garage and other strategic locations to monitor pest activity and seasonal invaders. These monitoring devices are inspected each service and replaced when necessary. Every other month visits will include sweeping eaves for wasps, mud daubers, and spiders. Next, a comprehensive treatment provides a substantial barrier around all home exterior entry points with a residual insecticide to effectively keep bugs out. Any inside service requested will be rendered FREE OF CHARGE during our program
What's Included:
Every Other Month Service: ANDERSON'S EXCLUSIVE 20-Point PEST BARRIER
Roaches (American, Oriental, Turkestan)
Ants INCLUDING carpenter ants
Wasps and Mud Daubers
Spiders
Crickets
Scorpions
Pantry Weevils
Silverfish
Earwigs
Centipedes
German Roaches
Mice & Rats**
Insect Monitoring***
$44.50/month
Initial fee of $99.* with year-round service agreement. Service is performed every other month. Each service is $89.*
*Additional charges apply for homes above 3,500 square feet.
** Exclusion treatment can be provided with a separate quote. Exclusion treatment is the creation of a physical barrier to prevent entry of rodents. The first TRS is included with this program. Supplying bait is also included in your plan. Tamper Resistant Stations required after the first station are only $25 and the service fee increases by $5 monthly per station to maintain a continuous supply of rodenticide per label recommendations.
*** Monitoring only. Treatment can be provided under a separate quote.
Gold Service
Our Gold service is the most comprehensive program we offer, for those who want to enjoy their home and yard without pests of any kind, including German cockroaches, carpenter ants, carpenter bees, bed bug monitoring, pigeons, bees, gophers and weeds!
The first service includes Anderson's 20 point Barrier program, treating your home inside and out with eco-friendly, residual insecticides and bait products for virtually every insect. We apply our products in the cracks and crevices of your kitchen and bathrooms where bugs love to hide, and even inside your walls where ants and roaches nest. We will even place bedbug monitoring stations where required. We will treat all exterior entry points such as window and door frames and thresholds. Up to 4, Child and animal-proof rodent bait stations will be placed around your property and near trash receptacles.
Every visit will include sweeping the eaves for spiders and wasps, as well as checking and replacing the insect monitoring stations strategically placed around your property, monthly.
Our monthly visits will monitor and replace all exterior, tamper-resistant bait stations with a continuous supply of fresh bait (4 tamper-resistant stations included for homes up to 3,500 square feet, more tamper-resistant stations can be requested for a minimal fee), sweep eaves, apply perimeter insecticides, and make your property virtually bug free. All interior applications requested are provided FREE of charge during our program.
What's Included:
Monthly Service includes ANDERSON'S 20 Point Barrier System
Roaches (American, German, Oriental and Turkestan)
Ants including Carpenter Ants
Wasps and Mud Daubers
Spiders
Crickets
Scorpions
Pantry Pests
Weevils
Silverfish
Earwigs
Centipedes
Carpenter Ants
Clean and Screen ONE, 2'x2' eave for permanent pigeon* exclusion
Insect monitoring
Africanized Bees* (Ground level ONLY)
Fleas/Ticks
Mice & Rats**
Weed Control**
Gophers**
Bed Bug Monitoring***
$89/month
Initial fee of $99.* with year-round service agreement. Service is performed on a monthly basis. Each service is $89.*
* Additional charges may apply for homes above 3,500 square feet.
** Exclusion treatment can be provided with a separate quote. Exclusion treatment is the creation of a physical barrier to prevent entry of rodents. Yards larger than 21,780 square feet may require additional fees depending on gopher pressure. Desert landscaping larger than 21,780 square (1/2 acre) will require additional fees for weed control treatments.
*** Monitoring only. Treatment can be provided under a separate quote. Bed bugs control for ONE room is included for Gold Service subscriptions only. See details below.
Pigeons: one two-foot by two-foot rooftop eave is cleaned and screened with galvanized, welded wire mesh to permanently exclude nesting pigeons. If our large, thirty-foot ladder can safely reach the nesting pigeons, one eave is included. Rental fees of additional lift equipment required if our largest ladders or safety precautions are required to safely access the infested area(s). This is a $399 minimum value. Netting around rooftop AC units, solar panel exclusion work, exclusion beyond the ONE EAVE provided for GOLD customers, Avitrol, trapping, pressure washing services, and extra deterrents require an additional estimate.
Bees: Ground-level swarms and hive removal are included with the Gold service program. A $299 value! All structural bee removal services or any bee concerns above ten feet in the yard may require an additional estimate.
Bed bugs: If bed bugs are found in our monitors or hitchhiked by some other means into your home, ONE ROOM is included free of charge with the Gold program. $599 Value. The entire home is generally required to provide long-term bed bug eradication. Entire home bed bug services require an additional estimate and Gold customers receive a 25% discount on all specialty services not included in the plans.
Gophers: You will receive an intensive 4-day trapping program throughout the yard for all Gold customers requiring this service. Additional treatments are provided with your monthly program. Additional service requests after a 4 DAY trapping program ($499 Value) and monthly treatments along with your monthly service require an additional estimate.
Weed Control: You receive one spring and one fall pre-emergent application. Weed control treatments INCLUDE desert landscaping ONLY. ($399/Acre Value). Additional post-emergent and preemergent applications beyond two annual applications provided for GOLD customers require an additional estimate.
Anderson's

20 Point Exclusive Barrier

-

New Customer Checklist

Anderson's exclusive service is infinitely more effective than DIY, "spray and pray," traditional in-home treatments. Big-box store "residual" products at best last a few hours despite advertisements promising otherwise and usually make pest problems far worse.

Anderson's barrier is guaranteed to eliminate household pests. Our comprehensive pest control treatment includes an annual interior and exterior treatment around your home plus three quarterly exterior applications. This unrivaled barrier provides ultimate protection. (Interior applications are always included but rarely required with Anderson's extensive exterior barrier).

What to expect:
Complete inspection of your property, both inside and out, and consultation with you regarding the problems you are currently having, if any.

Treatment of attic/crawl space areas.

Service of garage, including spider web knockdown and removal.

Detailed application of trash receptacle areas.

Treatment of eaves, soffits, facia, and building exterior, including mud dauber wasp/nest removal.

Precision service of mulch or soil perimeter of building, including any ant hills within a 10' radius of the building.

Detailed application of all window sills, door thresholds, and any other entry points.

Exclusion techniques used (caulking, steel wool, Xcluder fill fabric, copper mesh, and screen) for any minor construction faults permitting an opening into the structure.

Treatment of patios, porches, lanais, screen rooms, outdoor jacuzzi tubs, and pool areas.

Treatment of moisture and food prep areas including laundry, kitchen, wet bar, pantry, bathrooms, etc.

Specialized spray, foam, bait, or dust application of wall voids in the above-listed areas.

Treatment of any other room where a particular problem may exist.

Exterior pest baiting using child-proof, refillable, tamper-resistant bait stations.

Recommendations on pest prevention encompassing exterior debris removal, tree branch or shrub trimming, termite and wood rot prevention, and sanitation both inside and out.

Spider web removal inside and outside

Inspection and treatment of all irrigation control valves

Strategic placement of glue boards for DIY monitoring (for one-time service). Monitoring and free glue board replacement for all recurring subscription plans.

Inspection and service of up to three detached outbuildings, i.e. casita, shed, RV parking, and more.

Bark, Giant Hairy, and Stripe-tailed scorpion checks and treatment of perimeter walls and other scorpion "hot spots."

All barbecue areas inspected and serviced.
Stainless, odorless, family, pet friendly or absolute GREEN treatments available upon request. No repeated applications inside your home for added convenience unless specifically requested!
Weekly, Monthly, Alternate Monthly, and One-Time service also available.
The

Science

Of

Home Pest Control

There is an ecosystem around your home. Our goal is not to prevent living creatures from coming into your yard, but to manage them. You should have bees visiting your plants and pollinating them. You want ants helping to aerate your soil. It's okay if a furry animal scampers through every once in a while. As long as invertebrates and wildlife are properly managed, problems shouldn't arise. To manage the living creatures in your yard and prevent them from invading your home, we apply Integrated Pest Management. This is an environmentally friendly and scientific approach to pest control. It uses mechanical, cultural, and biological solutions first, and the use of EPA-approved products when necessary.
We're

Green.

Completely

Green.

If you are looking for an eco-friendly service for home, business or industry, look no further. When you select the ANDERSON GREEN service that's exactly what you receive! A service that's tough on pests, gentle for family, pets and planet. Competitors may try to pass their GREEN service as "organic, earth-friendly, eco-friendly, all-natural, non-toxic, safe, even green," but sadly many are far from this.

When you select ANDERSON GREEN services you truly receive GREEN, completely green. Not a service with shades of green, or an application with a sprinkle of green highlights. All of our treatments are environmentally conscious and we offer much more, the ANDERSON GREEN program. Our team is excited to offer a cutting edge program that is COMPLETELY GREEN, science based, 100% organic, not just "natural" or "environmentally friendly."

There is a difference and you deserve the ANDERSON GREEN DIFFERENCE. When you select ANDERSON GREEN you:

1. Receive proven EPA Exempt products from the (25b list)

2. Botanical materials (naturally derived from plants)

3. Desiccant materials and products that are EPA Reduced-risk status.

The terms "green" or "organic" imply that the service being purchased is based upon non-chemical measures and the use of naturally occurring pesticides. Based upon this perspective, to deliver a truly "green" pest control service, only those products that come from earth-based materials such as borates, desiccant dusts such as diatomaceous earth and silica, or botanical insecticides and pesticides classified in 25B by the EPA (EPA exempt materials) can be used. Active ingredients that meet the criterion for EPA Exemption (Category 25b) are listed here.
The Choice Is Crystal Clear
Rain Creates An Abundance Of Life
What To

Expect

From Our

Home Pest Control

The services we provide will vary based on your needs, but we have a proven process that we follow. Your residential pest control plan is likely to include some or all of the following.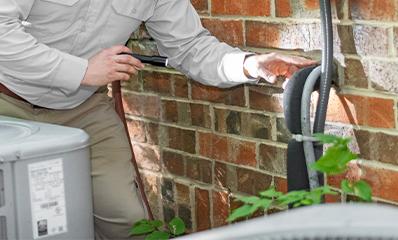 Inspection
We conduct a thorough inspection of your interior, focusing on moisture areas and other key points. Next, we do a pass around the exterior, inspecting the foundation, eaves, irrigation system, including control valves, exterior lights, cinderblock walls, plumbing penetrations, known harborages, and many other hot spots.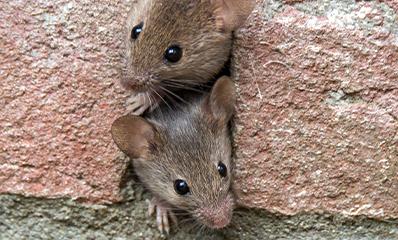 Wall Void Treatment
If necessary, we start by treating voids because this is where many pests like to hide.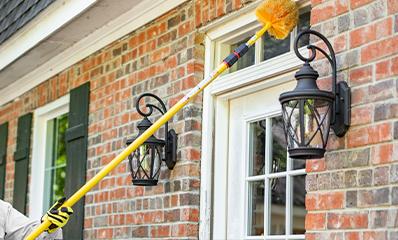 Dewebbing
We take down spider webs inside and outside of your home to prevent spider eggs from hatching and increasing spider populations.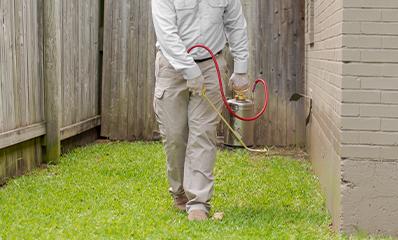 Perimeter Barrier Treatment
We apply high-quality, EPA-approved materials around the perimeter to repel and knock down pests before they are able to invade.
Granulate Lawn Treatment
We apply family and pet-friendly products to your lawn to suppress pest activity, break down egg cycles, and manage colonies of over 200 desert pests.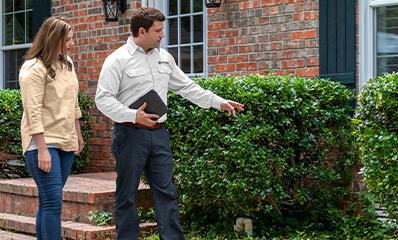 Pest Monitoring & Exclusion
We use glue boards, traps, and other devices to monitor pest activity between visits, and we make sure weatherstripping, door sweeps, screens, and seals are tight around the home to keep pests out.
Some

Pests

Require

Special Treatment

Most pests get into your home through entry points in your foundation or exterior walls, but what about the ones that don't? In the last two decades, we've seen a surprising rise in bed bug infestations. These bugs don't live in our yards; they go from structure to structure by hitchhiking.

Perimeter pest control doesn't keep these insects out, but having a recurring pest plan with Anderson Pest Control gives you access to emergency pest services. If these bugs hitchhike into your home, you can have them addressed by someone who is familiar with your home, and who is experienced in bed bug control methods. We can get rid of bed bugs quickly and discreetly so you can minimize the fallout.
Guaranteed Solutions
for your Toughest

pest problems
Anderson Pest Control

Is The Right Choice
If you're looking for a pest control company that listens to you, customizes your plan to meet your needs, supports you with impeccable customer service, and backs its services with the best warranty available in the industry, you've found it.
Anderson Pest Control offers an unconditional, 100% Satisfaction Guarantee! As long as you are an Anderson client you will have the confidence and peace of mind that our team will protect what you value most—family, health and home from unwanted pests. In fact, when you sign a service agreement your pest professional will return as often as needed to ensure your complete satisfaction.
Reach out to us today and request a free pest control inspection for your Nevada property. We service Las Vegas and the surrounding region with leading pest control. We can help you find the right solution for your home.
Latest

Blogs

Stay informed about pests and pest related issues in your area!

View All Blogs