What Attracts Scorpions And How To Keep Them Away In Las Vegas
July 28, 2023
It's never fun to see scorpions running around your Las Vegas property. If you're experiencing this type of infestation, you're probably wondering why they chose your place to visit in the first place. Certain factors are bound to attract scorpions and bring them to your property. By addressing these factors, you can stop them from coming around in the future.
Let's learn a bit about scorpions and things that attract them so you can keep them away. Here at Anderson Pest Control, we pride ourselves on providing our customers with the education they need to keep their properties pest-free. So, whether you read this article before or after you call us for help with your Las Vegas pest control services, we hope it helps in your fight to keep scorpions away from your property in the first place.
Our family-owned company is here to help. Our friendly and knowledgeable technicians are eager to cater to your unique needs and your specific pest problem. Your satisfaction is our business, so we always stand behind our work and get you the reliable results you need to be comfortable on your property.
In this article, you'll learn everything you need to know about scorpions. After you read it, give us a call to schedule your appointment for scorpion control with the company that cares.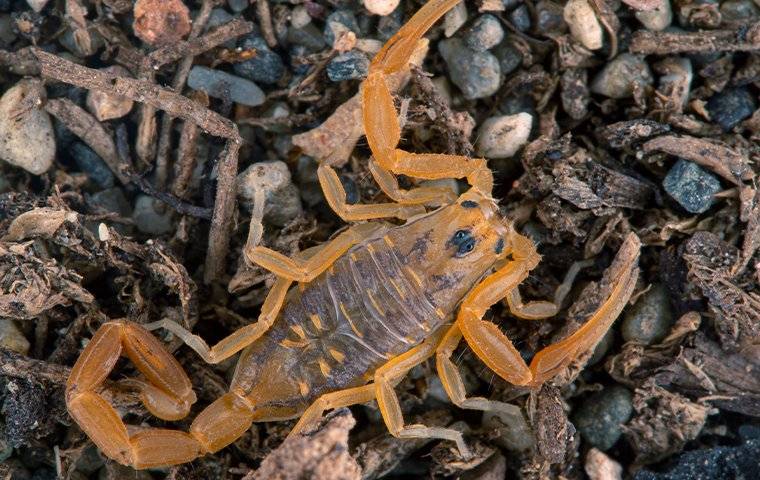 Understanding Scorpion Behavior And Habitats
Let's look at the typical behaviors that scorpions in Las Vegas will exhibit and the common habitats they choose.
You'll be able to identify scorpions immediately by their large pincers and segmented tail with a stinger at the end.
If you see them hanging around your property, you'll find them out and about at night since they're nocturnal creatures. They only sting to kill their prey or in self-defense, so as long as you keep your distance and wait for professionals to get rid of scorpions for you, you should be able to avoid a sting.
Scorpions love dry climates like what we have here in Las Vegas. That's why so many property owners in the area end up with this type of pest problem. It's also why we use the best methods in the industry to eliminate them.
Health Risks Of Scorpion Infestations
If you're wondering how to get rid of scorpions at your Las Vegas home, it's probably not just because you don't like seeing them around; it's that you know that if you accidentally sneak up on one of them, you'll risk getting stung. There are some potential health risks that you can experience if you get stung, so it is always best to avoid having to deal with them in the first place. Remember, the best way to do that is to give us a call and schedule an appointment with our local team of experts for scorpion control service in Las Vegas.
Getting stung typically causes mild symptoms, but some types of scorpions in Las Vegas are more dangerous than others. It's always better to be safe than sorry and give us a call right away when you find a scorpion on your property. That way, you can avoid potential health risks.
Identify And Remove Factors That Attract Scorpions
Now, let's look into the scorpion attractants we discussed earlier. By identifying and removing these factors, you can stop attracting scorpions to your property.
Below are the common things that attract scorpions and could facilitate one of them ending up in your house:
Harborage sites like woodpiles, trash, debris, large stones, and lumber
Firewood, especially if located close to your property's structure
Entry points like cracks and holes in your property, as well as damaged screens on doors or windows
Addressing these attractive factors is one of the most effective methods of scorpion prevention.
Professional Pest Control Makes The Best Scorpion Control
Anderson Pest Control is here to provide you with the best scorpion control service in Las Vegas! There are a few key factors that set us apart from our competition. We refer to these as "The Anderson Difference." They include:
We provide exceptional customer service and are always willing to go the extra mile.
We use the highest-quality EPA-registered pest control materials and products that produce long-lasting results while prioritizing safety and ecological friendliness.
We utilize an Integrated Pest Management (IPM) approach and combine various methods to provide effective, long-term solutions that discourage reinfestations.
Choose to work with us, and you'll be a satisfied customer! We stand by our work, so if you still see scorpions right after we treat your property, you can count on us to make it right. But we sincerely doubt you will because we make it our mission to do the job right every time.
Don't let scorpions linger and compromise your comfort on your Las Vegas property. Give us a call to schedule your appointment with Anderson Pest Control and to learn more about our residential and commercial pest control services in Las Vegas.
Previous
Next