Professional Pest Control For Red Rock Country Club, NV Properties
Situated on the outer city limits of Las Vegas and at the foothills of Red Rock Canyon National Park, Red Rock Country Club is an oasis in the heart of the desert. With a warm, arid climate, Las Vegas area residents can enjoy everything Red Rock Country Club has to offer all year round, but so can pests.
That's where Anderson Pest Control comes into play. For more than 20 years, we've been servicing families and businesses of the greater Las Vegas area with pest control they can count on. We're proud to offer environmentally sound solutions to all of your pest control woes; we guarantee it. So contact us today to schedule your initial inspection.
Five Rodent Control & Prevention Methods For Red Rock Country Club
Rodents are a highly destructive class of pests, causing immense structural damage and also wreaking havoc on your health. Here are 5 tips for preventing and controlling rodents at Red Rock Country Club:
Seal up holes, cracks, and crevices. Rodents can slither through very small openings so patch them up thoroughly and with rodent-proof materials like black steel and wire mesh.

Store food and trash properly. These pests want your food and garbage, they aren't fussy. Always store food in airtight containers and don't leave it out uncovered while also storing trash properly and remove it regularly.

Use traps. Through the usage of ethical traps, you can catch and release rodents from your property.

Make your home inhospitable. In addition to taking away a rodent's food source you can also take away their shelter by removing clutter and piles as well as excess packing materials.

Call the professionals. Rodents pose a severe threat to your health and structure, so nothing beats bringing in a team of pros to take care of your rodent problem in its entirety.
To keep Red Rock Country Club safe and rodent-free contact the professionals at Anderson Pest Control today.
How To Keep Scorpions Off Red Rock Country Club's Property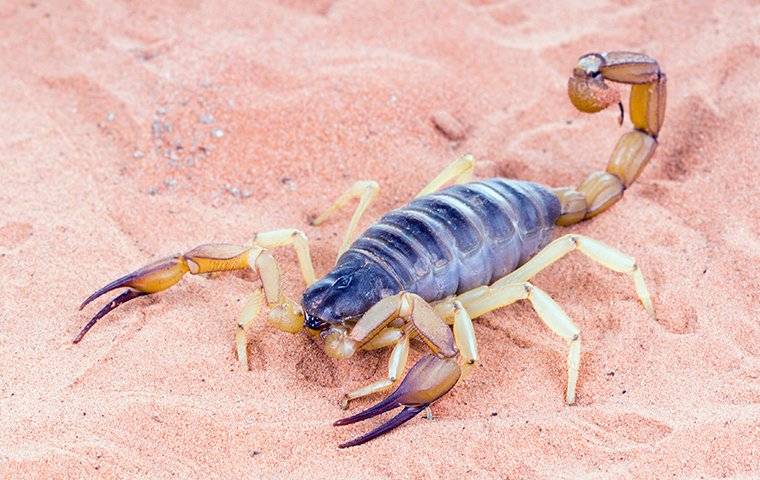 Scorpions may seem like a pest straight out of a horror movie but they are very much so a reality, biting humans and posing a slew of health risks. Here are a few ways to keep scorpions off Red Rock Country Club's property:
Seal up crevices and openings especially around doors and windows, using caulk or weather stripping where helpful.

Clear away debris, woodpiles, or brush around your property.

Since scorpions feed off of other pests, keeping pest populations low is imperative.

Call the professionals for scorpion control that you can count on.
For all of your scorpion needs, contact Anderson Pest Control today!
Are There Poisonous Spiders Near Red Rocks Country Club?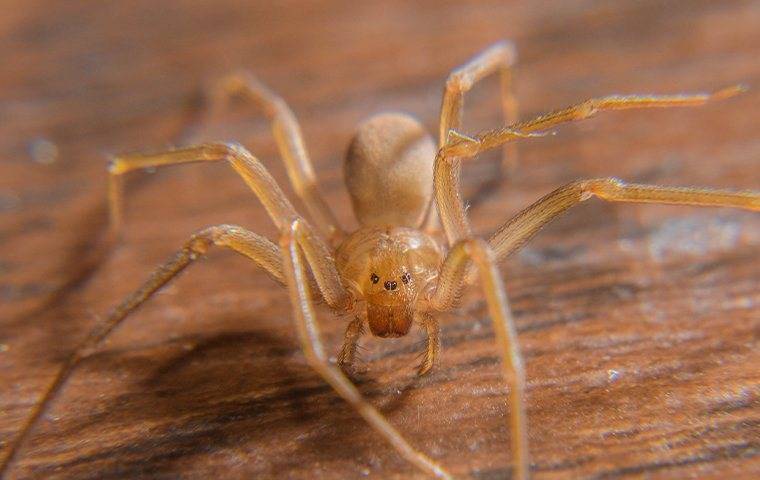 Most spiders that Las Vegas homeowners are likely to encounter are not significantly threatening to humans. That said, there two distinct species of spiders that people should be cognizant of if the Red Rocks Country Club area:
Black widow spiders. Spotted by their glossy black exterior, the female black widows will be stamped with a red hourglass symbol whereas; the male is typically brown or black and is rarely seen at all. They spin their webs in secluded dark areas where they hang upside down and wait for their prey. Once the black widow feels threatened they bite and their bites are poisonous. Keep an eye out for crawl spaces, attics, and basements.

Brown recluse spiders. A rather small brown spider, the easiest way to determine whether or not the spider you're looking at is a brown recluse is if they have 6 sets of eyes, as they're the only spider with this feature. They will also be stamped with a violin shape, though this can be a harder feature to identify. When outside you might spot these spiders under rocks or logs, and inside, they hide in clothes, shoes, and furniture.
To protect yourself from spiders of all kinds, contact Anderson Pest Control today for spider control!
Commercial Pest Control In Red Rock Country Club, NV
At Anderson Pest Control, we've been serving businesses of the greater Las Vegas area for more than 20 years with pest control they can count on. Our expert technicians inspect every property thoroughly so that we can understand your problems and goals in their entirety. Then, utilizing Integrated Pest Management (IPM) principles, we devise a plan of action that is customized to fit your specific needs. At Anderson Pest Control, we always follow up on a regular schedule that you set, so that we can ensure that treated pests have been eradicated and that new problems won't arise.
We know that you're going to see results, but rest assured, because we also offer a 100% satisfaction guarantee on all of our commercial pest control work. Contact us today for your free, no-obligation inspection and keep Red Rock Country Club safe and free from pests!