Professional Pest Control For Red Rock Country Club, NV Properties
Situated on the outer city limits of Las Vegas and at the foothills of Red Rock Canyon National Park, Red Rock Country Club is an oasis in the heart of the desert. With a warm, arid climate, Las Vegas area residents can enjoy everything Red Rock Country Club has to offer all year round, but so can pests.
That's where Anderson Pest Control comes into play. For more than 20 years, we've been servicing families and businesses of the greater Las Vegas area with pest control they can count on. We're proud to offer environmentally sound solutions to all of your pest control woes; we guarantee it. So contact us today to schedule your initial inspection.
Five Rodent Control & Prevention Methods For Red Rock Country Club
Rodents are a highly destructive class of pests, causing immense structural damage and also wreaking havoc on your health. Here are 5 tips for preventing and controlling rodents at Red Rock Country Club:
Seal up holes, cracks, and crevices. Rodents can slither through very small openings so patch them up thoroughly and with rodent-proof materials like black steel and wire mesh.

Store food and trash properly. These pests want your food and garbage, they aren't fussy. Always store food in airtight containers and don't leave it out uncovered while also storing trash properly and remove it regularly.

Use traps. Through the usage of ethical traps, you can catch and release rodents from your property.

Make your home inhospitable. In addition to taking away a rodent's food source you can also take away their shelter by removing clutter and piles as well as excess packing materials.

Call the professionals. Rodents pose a severe threat to your health and structure, so nothing beats bringing in a team of pros to take care of your rodent problem in its entirety.
To keep Red Rock Country Club safe and rodent-free contact the professionals at Anderson Pest Control today.
How To Keep Scorpions Off Red Rock Country Club's Property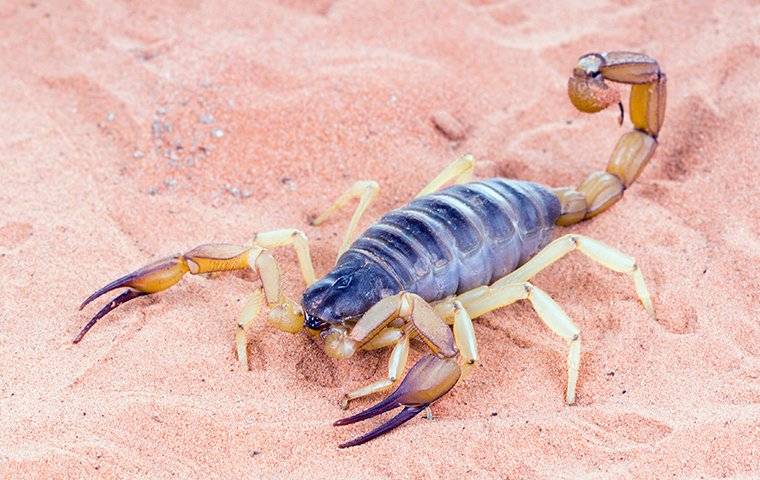 Scorpions may seem like a pest straight out of a horror movie but they are very much so a reality, biting humans and posing a slew of health risks. Here are a few ways to keep scorpions off Red Rock Country Club's property:
Seal up crevices and openings especially around doors and windows, using caulk or weather stripping where helpful.

Clear away debris, woodpiles, or brush around your property.

Since scorpions feed off of other pests, keeping pest populations low is imperative.

Call the professionals for scorpion control that you can count on.
For all of your scorpion needs, contact Anderson Pest Control today!
Are There Poisonous Spiders Near Red Rocks Country Club?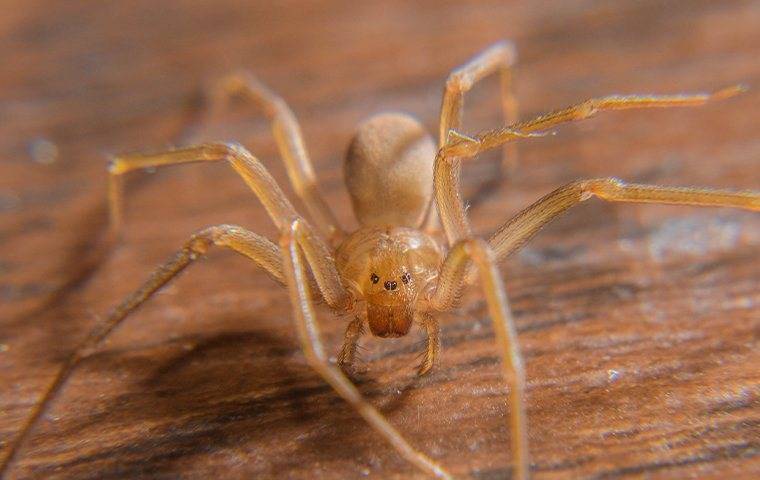 Most spiders that Las Vegas homeowners are likely to encounter are not significantly threatening to humans. That said, there two distinct species of spiders that people should be cognizant of if the Red Rocks Country Club area:
Black widow spiders. Spotted by their glossy black exterior, the female black widows will be stamped with a red hourglass symbol whereas; the male is typically brown or black and is rarely seen at all. They spin their webs in secluded dark areas where they hang upside down and wait for their prey. Once the black widow feels threatened they bite and their bites are poisonous. Keep an eye out for crawl spaces, attics, and basements.

Brown recluse spiders. A rather small brown spider, the easiest way to determine whether or not the spider you're looking at is a brown recluse is if they have 6 sets of eyes, as they're the only spider with this feature. They will also be stamped with a violin shape, though this can be a harder feature to identify. When outside you might spot these spiders under rocks or logs, and inside, they hide in clothes, shoes, and furniture.
To protect yourself from spiders of all kinds, contact Anderson Pest Control today for spider control!
Commercial Pest Control In Red Rock Country Club, NV
At Anderson Pest Control, we've been serving businesses of the greater Las Vegas area for more than 20 years with pest control they can count on. Our expert technicians inspect every property thoroughly so that we can understand your problems and goals in their entirety. Then, utilizing Integrated Pest Management (IPM) principles, we devise a plan of action that is customized to fit your specific needs. At Anderson Pest Control, we always follow up on a regular schedule that you set, so that we can ensure that treated pests have been eradicated and that new problems won't arise.
We know that you're going to see results, but rest assured, because we also offer a 100% satisfaction guarantee on all of our commercial pest control work. Contact us today for your free, no-obligation inspection and keep Red Rock Country Club safe and free from pests!
Red Rock Country Club's Practical Guide To Ant Control
While ants are one of the more common nuisance pests that Red Rock Country Club residents might encounter, keeping them away doesn't have to be complicated. Try these tips to deter ants today:
Address the yard. Clear away debris like branches, shrub clippings, and leaf piles.
Rectify moisture issues. Be sure to fix leaky downspouts and turn off fixtures after using them.
Tidy up. Ants can make a meal out of anything, but they prefer sweet substances. Be sure to clean up all spills, including soap and shampoo, do the dishes after mealtime, sweep up crumbs, and routinely take out the trash.
Be diligent about food storage. Another way to further deter ants is by keeping all food items in airtight containers. Avoid using original packaging no matter the sort of food or ingredient.
Seal all openings. Because ants can fit through almost any opening around a home, it's important to fill even the smallest gap. Try caulk and expanding foam for foundations and create good fits for windows and doors with weatherstripping.
Call the pros. When it comes to preventing ants, there is no solution more reliable than professional services from a trusted expert.
For more information on ant control, call Anderson Pest Control today.
Residential Pest Control In Red Rock Country Club
As a homeowner, you may find that pest problems can be very scary to deal with. At Anderson Pest Control, we look to take the stress out of dealing with pests with reliable Red Rock Country Club pest control. We are a locally owned company that understands your pest concerns firsthand and we address them in the safest way possible.
All of our services are based on the methods of Integrated Pest Management, which is an environmentally conscious approach to pest elimination and prevention. It also means that all of the products we use are child-friendly and pet-friendly. In order to deliver maximum coverage and savings, we offer the following recurring plans:
Value Service: Our entry-level program provides homeowners with quarterly services to address pests like ants, cockroaches, stinging insects, and more. It comes standard with our signature 20-point barrier.
Sterling Silver Service: This plan increases to bi-monthly service and includes broader coverage to include German cockroaches, carpenter ants, and rodents.
Gold Service: Our most comprehensive plan involves monthly services that also address fleas, ticks, weeds, gophers, and more.
In addition to these services, we also offer specialized services for cockroaches, scorpions, weeds, rodents, and more. If you're interested in learning more about the benefits of Red Rock Country Club residential pest control for your home, please call us today.
What To Do When The Birds In Red Rock Country Club Are No Longer Charming
Pest birds in Red Rock Country Club are an unavoidable part of daily life, but they can be a nuisance or even a danger if they nest in the wrong place. When their cooing and chirping is no longer cute, Anderson Pest Control can help. We are a fully licensed team of pest experts that have the proper training and experience that's required to address birds. All of our methods follow the Integrated Pest Management approach, use only EPA-registered products, and are humane for the birds.
Our process starts with a meticulous inspection of your property to understand what's attracting birds, where they're roosting, and other areas where they could potentially develop another issue. Then, we use methods like exclusion, wire mesh screens, netting, plastic spikes, and angled panels to keep birds off of your ledges and the other places that they look for. These methods are designed to protect your building and yield lasting results while not causing harm to birds. We will monitor the results closely and adapt them if necessary.
In addition to these services, we also offer sanitation solutions for when birds have left behind potentially hazardous droppings, and all of these services come with our satisfaction guarantee. To learn more about our bird control services, please call us today.
3 Things Everyone In Red Rock Country Club Ought To Know About Stinging Insects
There's a broad range of stinging insects that live in the Red Rock Country Club area. Here are three important things that locals should know about them:
Most of them are territorial and aggressive, but not all are. Honey bees are one of the most harmless types of stinging insects; however, wasps and hornets are known for their defensive behavior and ability to sting people and cause severe allergic reactions.
Sweet things attract them. Whether it's bees, wasps, or hornets, most stinging insects are lured by sweet fruit trees, blooming gardens, or even food during outdoor gatherings.
Professional help is the most effective way to get rid of them. For pests like wasps, they'll return to a property year after year to inspect the status of their previous nests. If they're still in good condition, wasps are more likely to build a new nest on that same property. In order to further reduce wasp attraction, removing these nests with professional help is imperative.
For more information on stinging insect control, call Anderson Pest Control today.